By Dr. Batami Sadan, Co-Founder and Board Member, Vaica, chair of the Israeli Association for Medical Informatics
hanging individual behavior is constantly at the heart of healthcare, and the need is growing. The old model of healthcare—a reactive system that treats acute illnesses after the fact—is evolving to one that is more centered on patients, prevention, and the ongoing personalized management of chronic conditions.
The new models must extend their reach outside of the four walls of a clinician's office so that they can support patient behavior change beyond traditional clinician-patient interactions. McKinsey's Healthcare Systems and Services Practice discussed this issue in this article.
This requires new capabilities, including clinical workflow tools to support patient targeting, care alerts sent to both clinicians and patients, enhanced communication and care management support for patients, most of the above need to be remotely managed.
In NEJM catalyst Insights Report of May 31, 2018 On the topic " What Creates Behavior Change May Not Sustain It", Prof. Kevin Volpp, team leader patient engagement and member of the NEJM catalyst leadership board, published the survey results based on 775 respondents, members of the NEJM Catalyst Insights Council—including health care executives, clinical leaders, and clinicians. Here are the results of that survey: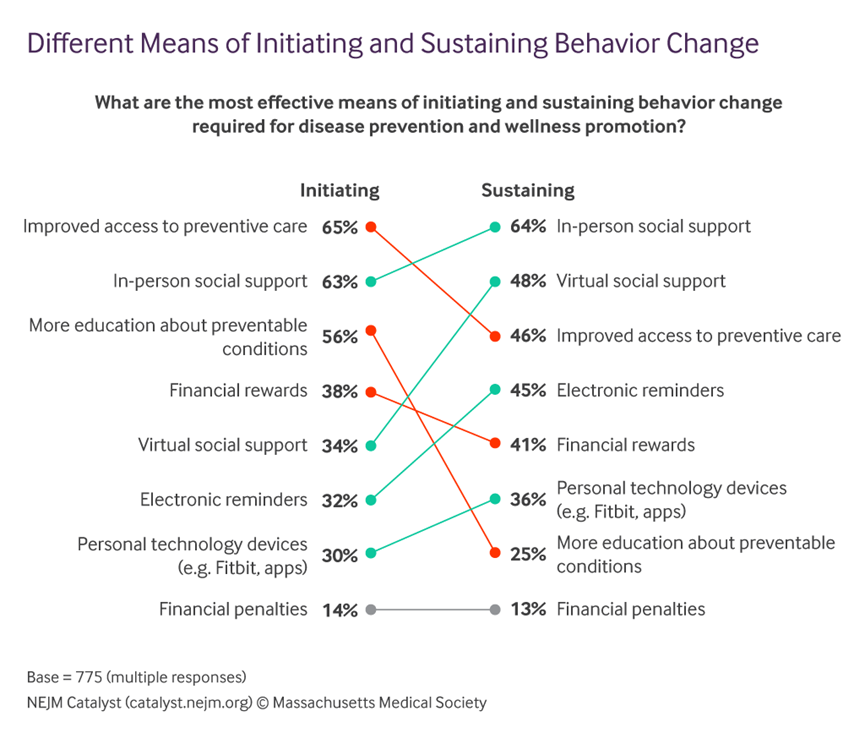 By focusing on the first 4 means that were indicated as the most important parameters for sustaining patient behavior (In person Social Support, virtual social support, improved access to preventive care and electronic reminders), I believe that tailored technology-based patient support programs can achieve this holy grail of sustaining behavioral changes.
By including tailored educational information to individual patient needs, delivering technology-driven reminders to both patients and providers, integrating in-person interventions with electronic alerts and enabling two way instant communication, we answer most important patient needs for turning habits into habituations.